Forecasters say storm will be large and extremely dangerous as it is projected to approach Carolinas coast on Thursday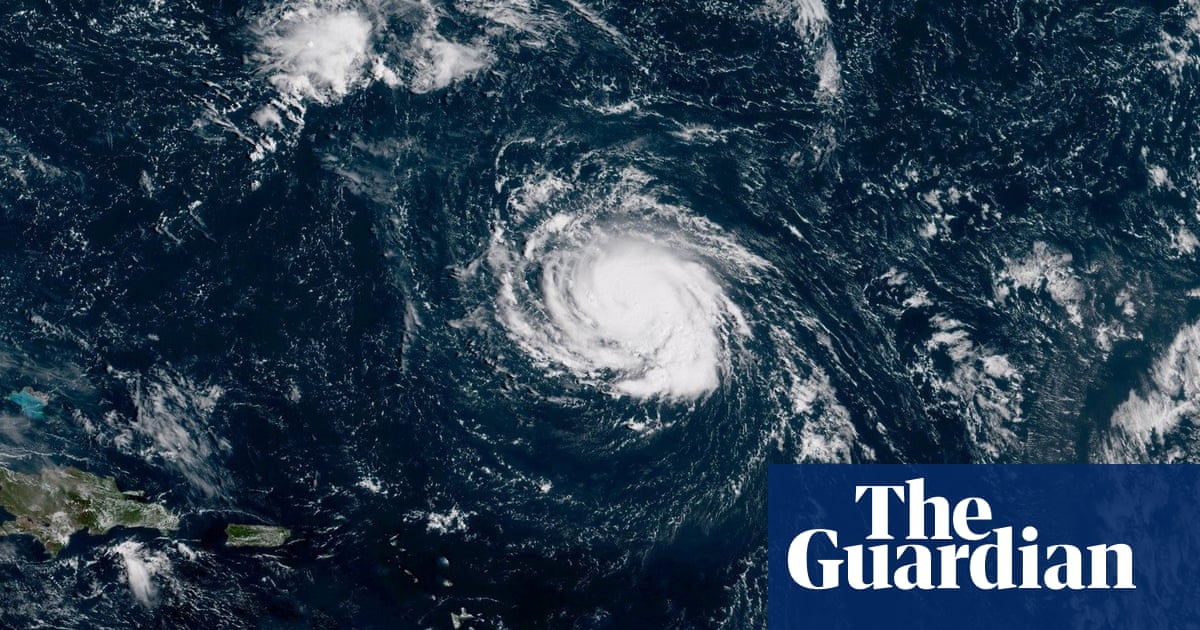 Florence rapidly strengthened into a potentially catastrophic category four hurricane on Monday as it closed in on North and South Carolina, carrying winds and water that could wreak havoc over a wide stretch of the eastern US this week.
The National Hurricane Center (NHC) director Ken Graham warned that Florence was forecast to slow down significantly once it reaches shore, lingering over the Carolinas. Predictions for heavy rainfall stretched into West Virginia.
When you stall a system like this and it moves real slow, some of that rainfall can extend well away from the center, Graham said. Its not just the coast.
He warned people living on the coasts and well inland to prepare to lose power.
Rain plus winds equals a lot of trees down and power outages that could be for an extended period of time, Graham said.
The first effects were already being seen on barrier islands on Monday, as dangerous rip currents and seawater flowed over highways. People were told to prepare to evacuate communities up and down a stretch of coastline already identified as particularly vulnerable to rising sea levels due to climate change.
For many, the challenge could be finding a safe refuge: if Florence slows to a crawl just off the coast, it could carry torrential rains up into the Appalachian mountains, causing flash floods, mudslides and other dangerous weather across a wide area.
Amid such warnings, Donald Trump canceled a rally that was planned for Friday in Jackson, Mississippi, because of safety concerns due to the approach of Florence, his campaign organization said.
Hurricane specialist Eric Blake said a warm ocean is the fuel that powers hurricanes, and Florence will be moving over waters where temperatures are peaking near 85F (30C). With little wind shear to pull the storm apart, Florences hurricane wind field is expected to expand over the coming days, increasing its storm surge and inland wind threats, and raising the likelihood of life-threatening freshwater flooding.
The bottom line is that there is increasing confidence that Florence will be a large and extremely dangerous hurricane, regardless of its exact intensity, Blake said.
By noon ET on Monday, Florence had top sustained winds of 130mph. It was centered about 1,230 miles east-south-east of Cape Fear, North Carolina, moving west at 13mph. Its center will move between Bermuda and the Bahamas on Tuesday and Wednesday, and approach the coast of South Carolina or North Carolina on Thursday, the NHC said.
Hurricanes Isaac, which could hit Caribbean islands, and Helene, much farther out to sea, lined up behind Florence as the 2018 Atlantic season reached its peak.
Preparations intensified on the densely populated coast. On North Carolinas Outer Banks, Dawn Farrow Taylor, 50, was gathering photos and important documents and filling prescriptions before heading inland. She grew up on the shore, and said this will be only the second time she has evacuated.
Since reliable record-keeping began more than 150 years ago, North Carolina has only been hit by one category four hurricane: Hazel, with 130mph winds in 1954.
I dont think many of us have ever been through a category four. And out here were so fragile. Were just a strip of land were a barrier island Already were getting some overwash, the ocean is coming over 12, she said, referring to the islands main road.
The governors of North and South Carolina and Virginia declared states of emergency far ahead of the approaching storm. South Carolina governor Henry McMaster also suspended his campaign and asked Donald Trump for a federal emergency declaration.
Navy ships off Virginias coast were preparing to sail out of the path, a North Carolina university canceled classes and people began stocking up on plywood, bottled water and other supplies. Red flags were flying on beaches, warning swimmers to stay out of the water as seas began kicking up. People rushed to get emergency kits ready, map out escape routes, fill sandbags and secure their homes.
Pretend, assume, presume that a major hurricane is going to hit right smack dab in the middle of South Carolina and is going to go way inshore, McMaster said. The states emergency management agency said it was preparing for the possibility of a large-scale disaster.
In coastal Charleston, South Carolina, city officials offered sandbags to residents. Myrtle Beach mayor Brenda Bethune urged people to secure their homes but said it was too early to know if evacuations will be ordered. Myrtle Beach hardware stores and supermarkets were busy ringing up sales of bottled water, plywood and generators.
Literally, they are filling buggies full of water, shopping carts full of water, Ryan Deeck, grocery department manager at a Walmart, told the Sun News. Theyre coming in and buying water and plates, and thats about all theyre buying.
North Carolina crews were getting bulldozers and chain saws ready.
Behind Florence, Isaac was about 1,150 miles east of the Windward Islands with top winds of 75mph early on Monday, moving west at 14mph. Isaacs forward movement was accelerating on a path to cross into the lower Caribbean on Thursday.
Helene was still in the Atlantics spawning ground for hurricanes, off the coast of Africa, swirling with 105mph winds and forecast to become a major hurricane, about 375 miles west of the Cape Verde islands.